When you're a runner, having the best shoes is a key priority in zero knee or back pain. No one has time for that, especially if you're going to be running on pavement or along the beach. Of course, with the millions of choices of running shoe brands out there, who comes out on top? Brooks.
Dedicated to quality footwear, this company has gained a ton of recognition over the years, being featured in publications such as Sports Illustrated and Runner's World, even winning awards for Best Women's Running Shoe and Best Winter Running Shoe. And they have 668K followers on Instagram, so you know they're popular.
Founded in 1914 by John Brooks Goldenburg, the brand once specialized in ballet slippers and bathing shoes. Over time, they graduated to making baseball cleats (where Mickey Mantle even wore their shoes!) and roller skates, before diving deep into running shoes in the early 70s.
Once Brooks shifted their focus to running, the popularity for their men's and women's footwear designs skyrocketed, as well as their accompanying accessories, such as shorts, sports bras, and socks. With headquarters currently located in Washington State, Brooks is still pumping out fairly-priced running supplies.
Maintaining a sustainability promise, Brooks makes their apparel with environmentally friendly practices, and champions a diverse running community. While there's plenty of good things to showcase about the brand in this Brooks running shoes review, we'll start off with a compiled list of highlights:
Since the 80s, Brooks has been creating amazing running shoes for women, and we're grateful they did! Not only have they won awards for their shoes, they have a wide variety of styles. Let's take a look at some best-selling Brooks womens' favs.
If you run every day, you know the importance of having a cushion-y landing when you hit the pavement. The Brooks Adrenaline GTS 21 is designed for comfort and support for the ladies out there that like to run on the road. The simple cushioning and hugging fit give this shoe some extra bounce, with lots of support and a soft, smooth, springy feel. This shoe is a no-frills, every day runner — and they just so happen to come in 28 colors.
Available in US sizes 5-13 (with narrow, medium, wide, and extra wide), this style retails for $130.
Let's be honest, running can take a nasty toll on your knees. What you need is a shoe that'll help you feel like you're running on air, and Brooks has delivered that promise with this best seller. The Brooks Levitate 5 are a classic, simple, and high-quality road running shoe.
This woman's style is made for anything from treadmill to running on pavement, and is built to quite literally put a spring in your step. The Levitate is stretchy and bouncy, along with great support for your ankles and feet.
Available in a medium width in US sizes 5-12, the shoes also come in 10 colors, retailing for $150.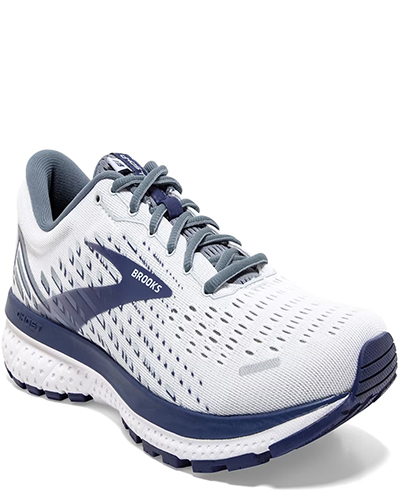 Light on your feet. Can handle late night runs. What more can anyone ask for in a running shoe? Most of all, this shoe can adapt easily to any sort of footing you have while you're working out.
The Brooks Ghost 13 have quickly become one of the brand's most popular styles. Geared towards ladies who are looking to go for longer runs or wear a shoe as an everyday trainer, this model is made to handle you in any situation. With its cushioned support, secure and snug fit, it has all the extra encouragement you need to get through your runs.
Available in 25 colors, these Brooks runners come in medium, wide, or narrow, and have a US size range between 5-13, retailing for $130.
The Brooks running shoes men's favorites include some popular and expertly crafted road running shoes, as well as a walking shoe that can't be beat. All the best sellers in this category are simple, comfortable, and affordable. Let's lace up and take a look!
The Brooks Adrenaline GTS 21 are as popular and comfortable as their female version. This classic shoe is built to fit like a glove and provide a soft smooth landing, giving road running a new edge on agility and distance. These men's shoes are finished with breathability technology and incredible cushioning.
The Adrenaline GTS 21 comes in narrow, medium, wide, and extra wide, and US sizes 7-15. These best sellers retail for only $130, and are available in 18 different colors.
The Brooks Adrenaline GTS 22 are a bit more innovative than their GTS 21 counterpart, but still maintain a certain simplicity and charm that keeps them at the top of Brooks' best sellers list. This model has been a fav for over 20 years, with years of innovative technology built in, so you can cruise the roads by foot in immaculate comfort.
The men's design is available in narrow, standard, wide, and extra wide, and in US sizes 7-15. They retail for $140, and come in 7 neutral colors.
Brooks Addiction Walker 2
Don't think Brooks is exclusively for runners. Though they're known for people who love to hit the pavement, they also have great (read: super comfy) shoes for walkers.
The Brooks Addiction Walker 2 is a best seller for a reason, featuring a simple, non-slip, super cushioned shoe built for everyday wear, especially for all sorts of walks through life. With optimum support and the versatility to be worn for walking or running, there's nothing to hold you back.
The Brooks Addiction Walker 2 comes in narrow, medium, wide, or extra wide, and in US sizes 7-15. They retail for $130 and come in white or black.
Brooks mostly gears their efforts towards runners! That being said, some of their most popular products are for walking (with an option to run). The bottom line of this brand is to create footwear for their customers, giving them freedom to do anything in comfort and with incredible support.
The best thing about the brand is it can be for anyone, from a youth signing up for sports to those who are looking to lounge around in comfortable footwear. With an accessible price point and a catalog of designs that suit just about any style, Brooks' running shoes are for those who like to keep active, and who like to move in general.