New Customer Offer! Get 10% Off Your First Purchase
New Customer Offer! Get 10% Off Your First Purchase
SALE!! Enjoy Upto 55% Off On Sale Items
SALE!! Enjoy Upto 55% Off On Sale Items
Checkout Our Newly Arrived Special Editions Collection Starting From $12.99
Checkout Our Newly Arrived Special Editions Collection Starting From $12.99
Get $20 Off On Hydration Essentials Kit Purchase
Get $20 Off On Hydration Essentials Kit Purchase
Checkout Our HydroJug Water Bottles Collection Starting From $9.99
Checkout Our HydroJug Water Bottles Collection Starting From $9.99
Shop Our HydroJug Sleeves Collection Starting As Low As $9.99
Shop Our HydroJug Sleeves Collection Starting As Low As $9.99
Shop HydroJug Accessories Starting As Low As $2.62
Shop HydroJug Accessories Starting As Low As $2.62
Get Free Shipping On All Orders Over $44.99+ Purchase
Get Free Shipping On All Orders Over $44.99+ Purchase
Join The VIP List For 10% Off Your Next Order
Join The VIP List For 10% Off Your Next Order
For The Best Mobile Experience
I like to think of myself as a water drinking expert, but that also means I go through my bottle rather fast. While you shouldn't need any reasons to drink water, staying hydrated has a lot of advantages, including…
Better skin.
More energy.
Mental clarity.
Weight management.
Overall health increase.
Fortunately, HydroJug's half-gallon and full-gallon bottles ensure that you reach your daily goal in with one fill-up. And its smart design elements like bigger handles and substantial carrying loops make it possible to carry around such a huge bottle.
They provide you the capacity you need to keep glugging and come in all the cool colors and stylish patterns you adore. They have a ton of customers for a brand that makes water bottles. They have 468k followers on Instagram and have been highlighted on Forbes and Well+Good.
In this HydroJug review, we'll look at the company, the goods, customer reviews, and more to help you learn more.
After brothers Jake and Hayden Wadsworth saw a YouTube video of an athlete using a milk jug as a water bottle, they decided to launch HydroJug. Back then, there were no practical solutions for those searching for widespread hydration, which today appears absurd.
The brothers started out with just three color choices; a year later, they added ten, and by 2020, they had sold 900,000 items. Along the road, they continued to add additional patterns and sleeves to their collection. Originally from Utah, HydroJug is currently sold at well-known stores including Target, Tilly's, and Dick's Sporting Goods.
In my HydroJug review, I'm going to crank things up a level, but first, let's look at the company's good points…
A large variety of jugs designed to encourage you to drink more.
Choices for customization.
There are many colorful designs.
Cheaper than other reusable bottles.
Offers promotions and savings.
Over $50, delivery is free.
Worldwide shipping.
Sezzle financing alternatives are available.
Since its humble beginnings as a single half-gallon bottle, the company has grown to provide an astounding array of jugs, including Pro, Mini, Glass, and Stainless Steel Insulated models.
Next in my HydroJug review, I'll go over the specifics of their best-selling products, all of which may be personalized with your preferred jug, sleeve, and straw color.
The Pro Jugs are the most well-known style from the company. The Neutral Pro Jugs are available in 5 contemporary colors, such as nude and mauve, and are big enough to hold a half gallon of water.
These behemoths are built with BPA-free polypropylene, which makes them lightweight, shatterproof, and dishwasher safe. You'll receive a stronger grip with the revised handle for one-handed carrying, which was created with features to make your day better. Additionally, compared to its predecessor, this model's carrying loop is thicker, making it more durable. It is now available for $22.
You like the Pro design, but you want something a little sexier. The fantastic oil-slick design of the Oil Paint Pro Jugs fades one color into the next to keep things fresh and has a smooth, touchable feel.
You may choose between the dreamy color tons of cotton candy, Laguna, and the horizon. It's built with shatterproof, dishwasher-safe, BPA-free polypropylene and has all the same qualities that make the Pro so popular.
Take hold of your jug with ease thanks to the extended handle, and transport it without spilling by gripping the sturdy carrying loop. This bottle usually costs $22, but it is currently out of stock. But don't worry they should be available soon.
Although other insulated bottles are cool, they just can't store enough liquid, but this jug can . You also benefit from having your preferred elegant print. Both the black cow and the black leopard variations of this pattern are unique.
The jug itself is composed of 18/8 stainless steel and has a capacity of 64 ounces of water. It has an extremely large mouth and is simple to clean. The silicone base and wide grip handle of the Wild Ones stainless steel jugs help prevent spills and slides. This design is a good option for individuals who prefer to keep things unconventional because it guarantees to keep your water cool for 24 hours. Buy it right now for $73.
Do you need more insulation? Sleeve options for HydroJug's Pro, Mini, and Gallon jugs are abundant. Choose from a variety of solid patterns or try something daring like floral, animal, or metallic patterns. The brand's most popular HydroJug sleeve is up ahead.
This limited-edition sleeve was designed to fit your Pro Jug. Your beverages will stay cool while you go on activities thanks to the double layer of premium neoprene that is included.
There are some fantastic features on the Pink Drip by DesB Special Edition Sleeve as well. It has two compartments where you can store your keys, money, or cards in addition to the strap that is supplied for convenient carrying. The sleeve is equipped with a hook to make connecting the strap really simple and is, of course, just as painstakingly made as their jugs. For $25, you can get this vibrant pink design.
Is The HydroJug Suitable for You
You should use HydroJug if you drink water a lot. It's a terrific choice for folks who want to drink more water and want a bottle that reflects their individual style because it's made to keep you hydrated while you're on the road.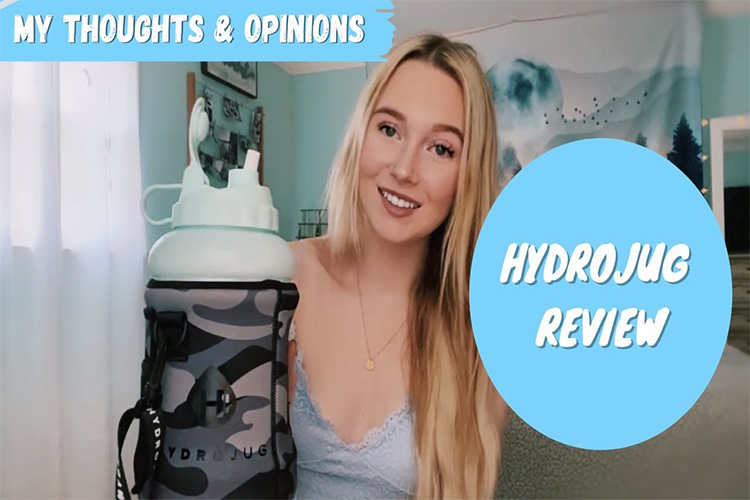 HydroJug certainly offers some pretty nice bottles, but how do they actually compare? I'll investigate by looking at user reviews in this portion of my HydroJug review. First are a few reviews I retrieved from the company's website.
Oil Paint Pro Jugs – 5/5 stars, 54 reviews.
Neutral Pro Jugs – 4.4/5 stars, 566 reviews.
Wild Ones Stainless Jugs – 5/5 stars, 239 reviews.
I read through the Neutral Pro Jugs review area and found a number of satisfied buyers. The majority of them claimed to keep their water cool and manageable. One review of HydroJug mentioned, "Love the color and feel of the jug I have 5 different bottles and love them all. So easy to keep track when you're drinking 4-5 liters a day. Live the wide mouth on the bottle so I can load easily with ice."
Many people were drawn to this brand because of the size of its jugs and the variety of attractive colors it provides, but the performance of the jugs is what eventually satisfied them. We can check Amazon to see whether the same degree of customer feedback remains true, at least that's what the brand's website claims.
Over 2.5k customers have given the Neutral Pro Jugs a 4.6/5 star rating on Amazon. Amazingly, 90% of customers gave it a rating between 4 and 5. That result is fantastic. Why did they adore it so much? Customers that purchased it on Amazon expressed their admiration for the item's appearance, size, and portability.
This HydroJug review neatly sums everything up, "Using this to drink water. Very convenient to hold and use with one hand. It's not heavy even when it's completely filled. Doesn't leak. I love the hydro jug. Since I got it, I am drinking more water regularly. Love the color too."
Customers noted that the wide opening makes it simple to wash, which is a benefit that not all reusable bottles offer.
The review that follows was derived from the website Apartment Therapy. In-depth investigation of the bottle by their writer revealed that it is "strong and durable," with useful functions and a lovely appearance. What they had to say regarding the carrying loop is as follows, "The carrying loop is what really caught my attention…Without even thinking about it, I can grab the jug by the loop and carry it with me. I don't even have to worry about the lid suddenly flying open and spilling my drink everywhere. It snaps shut and holds tight!"
If you choose these jugs only for their aesthetic appeal, you'll be pleasantly delighted to learn that they are meticulously constructed. Customers tend to value their HydroJug purchases as an inexpensive bottle to stay hydrated.
Although there aren't many complaints about this brand overall, I looked into how it handles complaints at the Better Business Bureau.
HydroJug has an A+ rating from the BBB for responding to all concerns and resolving them. Even though those concerns could have been cause for concern, the way the brand handles problems demonstrates that if you have a problem that persists, they will fix it.
So, Is the HydroJug Worth It?
I frequently return to my kitchen to re-fill my water bottle, so I'm used to it. It only makes sense to have a larger jug nearby as it will encourage me to consume more water now rather than waiting for a break.
I consider HydroJug to be a pretty nice alternative to other reusable, environmentally friendly water bottles available on the market. In addition to substantially bigger sizes, it provides large-scale bottles for half the price of rival products. By giving them vibrant colors and designs, you may have a cool-looking bottle and the necessary hydration.
Do they ship internationally?
Yup. Global shipping is offered by HydroJug. For Canadian orders worth more than $50, delivery is even free.
The HydroJug staff will begin assembling your item as soon as you place it and will send it from their warehouse in Utah. It usually takes 1-3 business days for domestic shipping. For US orders over $50, shipping is free. For everyone else, shipping will be determined at checkout.
If you need to return your HydroJug, you can do so as long as you follow a few simple rules. We'll go through them with you…
The procedure can be started within 30 days.
Your product(s) must be unopened.
The cost of return postage will be your responsibility.
Contact customer support to start a return or exchange. Before you return any items or request an exchange, they must first authorize your request.