Finding the best Garmin watch depends on your needs and your budget. While some of the devices on this list are more of a fitness tracker, designed to count your steps, distance and calories burned, others are clearly designed with hardcore athletes and outdoor enthusiasts in mind. Garmin watches range from the $149 Garmin Forerunner 55, to the $999 Fenix 7X Sapphire Solar Editon, so it's a good idea to know exactly what you're looking for before investing.
All Garmin watches track steps, sleep, and heart rate, and even the watches not specifically designed for swimming are water-resistant. Garmin watches all come with batteries that will last for days on a single charge and should get you through more than one workout when you're connected to GPS. All watches also sync to Garmin Connect, which offers a detailed look at your health and wellness data, and link you to the global community of Garmin users.
Some Garmin watches have the features you'd expect from the best smartwatches, such as mobile payments, music storage, and color displays. But Garmin devices are better known for their fitness features, and many of them are among the best sports watches and best fitness trackers on the market.
What is the best Garmin watch?
After much running, biking, and sweating with a variety of Garmin watches, we think the best overall is the Garmin Forerunner 245. It packs the best of Garmin's sensors, training apps, and health trackers into a device that's comfortable to wear all day and night. There's also a Music edition that can store up to 500 songs to help power you through your workouts.
The Garmin Forerunner 55 is a stripped-down version of the Forerunner 245. The display is smaller, but the battery life is longer, and you still get access to Garmin's coaching and training features. The Forerunner 55 is a good bet for anyone who's new to running, like its predecessor the Forerunner 45, it's an entry-level watch that really doesn't feel like it.
1. Garmin Forerunner 245 – US $224.99
The Forerunner 245 is Garmin's best all-around watch. Along with an accurate GPS, a long-lasting battery, and the ability to track many types of workouts, the watch features the same fitness metrics as Garmin's latest higher-end GPS watches: Training Status to track progress, Training Load to see workouts over a seven-day period, and Training Effect to measure anaerobic and aerobic. It also supports sleep, stress, blood oxygen saturation, and menstrual cycle tracking. When synced with your phone, the Forerunner 245 – along with many other Garmin watches – can send (and also cancel) emergency notifications at the push of a button.
The Garmin Forerunner 245 is small and light, so it won't weigh down your wrist during workouts or feel uncomfortable during every day wear or while you're sleeping. It comes in five different colors along with interchangeable accessory bands, which will help match your personal style. The watch does fall short on smartwatch functionality – it doesn't support mobile payments and won't let you respond to notifications – but it's a best-in-class health and fitness tracker.
Garmin also offers a Forerunner 245 Music edition, which comes with onboard storage for up to 500 songs and syncs with Spotify or Deezer accounts. You can change tracks using the buttons on the watch or through the controls on your headset. The watch maintains a steady connection to headphones throughout a workout, which is a critical feature for a watch built around music. The battery will last six hours in GPS mode with music playing.
2. Garmin Forerunner 55 – US $169.99
If you're starting to get into running, chances are you want a device that's a step up from a basic fitness tracker but also won't overwhelm you with too many features. Among Garmin watches, the Forerunner 55 is a clear choice.
At its core, the Garmin Forerunner 55 is an entry-level fitness watch, replacing the popular Forerunner 45 earlier this year. While it looks very similar to its predecessor, Garmin made some important changes, adding some of the more advanced training tools usually reserved for their more expensive watches. The Forerunner 55 has Garmin's new PacePro technology, which gives you gentle speed and cadence alerts on the run. There are also suggested recovery times and workouts, based on your training history, fitness levels, and recovery. This is a differentiator from similarly priced watches such as the Samsung Galaxy Watch Active or the Fitbit Charge 5 which track workouts but don't offer custom coaching plans.
It's worth noting that the Garmin Forerunner 55 doesn't support music storage, mobile payments, or third-party apps. It also has a relatively small display, at just over 1 inch. If these are must-have features for your Garmin watch, you may want to consider a higher-end device. If you are looking for a cheaper watch, the Forerunner 45 is often in the sale right now, following the release of the Forerunner 55, so it's a good time to buy.
3. Garmin Venu 2 Plus - US $380.16
Garmin watches aren't just for serious athletes. The Venu 2 Plus is a stylish smartwatch on a par with the Apple Watch and Fitbit Versa 3 —- and it's rugged enough for bike rides, strength workouts, and playtime with the kids. It's also a step up from the Garmin vivo active 4 with an AMOLED display and a stainless-steel bezel.
The Garmin Venu Plus 2 blends the fitness- and health-tracking features you'd expect from a Garmin device with smartwatch features such as mobile payments, notifications, a touchscreen, and storage for up to 650 songs. The watch also boasts a much better battery life than most smartwatches, even with its AMOLED display.
One big improvement with the Garmin Venu 2 Plus is the voice assistant features. To better challenge its big-name competitors, the $449 Garmin Venu 2 Plus introduces on-wrist calls and voice assistants. While it maintains Garmin's reputation for thorough fitness tracking and accurate GPS, the Venu 2 Plus is now a stronger sell for those who want their smartwatch to act as an extension of their smartphone.
4. Garmin Epix 2 - US $894.95
The Garmin Epix smartwatch is epic in just about every way: its design, its display, its battery life is all superlative — as well as its price. While not the first of the company's devices with an AMOLED display, it's their highest-end model to sport this feature, so that also means you're getting absurdly long battery life, the ability to track almost every activity, on-board music storage, mobile payments, and much more.
If you like the sound of the Fenix 7, but fancy something that looks a little more beautiful on your wrist, the Epix Gen 2 is the watch for you. The 1.3-inch AMOLED touchscreen is wonderfully bright and easy to read, even in direct sunlight.
When it comes to health and fitness tracking, the Garmin Epix's features are identical to that of the Fenix 7, in that it can track just about everything. In addition to a heart rate monitor, the Epix 2 has a blood oxygen sensor that can keep tabs on your levels throughout the day, as well as perform on-the-spot checks.
All-in-all, this is a fantastic watch and built for adventurers. The main difference between the Fenix 7 and the Epix 2 is the battery life — in Expedition mode, the Fenix can last up to 40 days (74 days with solar), whereas the Epix will wind down after just 14 days.
5. Garmin Lily – US $160.28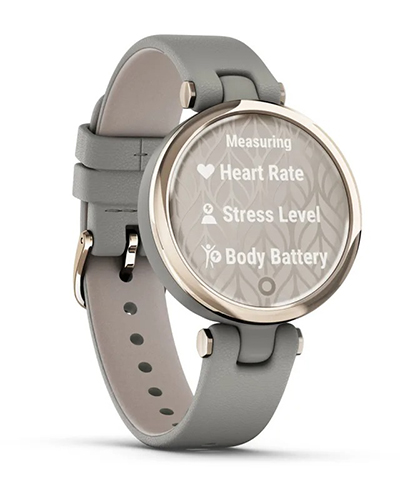 If you're looking for an activity tracker that doesn't look like an activity tracker, the Garmin Lily is for you. It's arguably Garmin's most fashionable smartwatch and has a number of useful tools for female users, including menstrual or pregnancy tracking, giving mums-to-be a better understanding of their day-to-day health.
The Garmin Lily looks like actual jewelry and comes in two different models – Classic and Sport. The Classic costs $249.99 and features a dual-tone leather strap, whereas the Sport version has a soft silicone band that's easier to clean post-workout and costs $199.99. That said, if you're a serious runner or cyclist, you might find the lack of GPS on the watch frustrating. 
Where the Garmin Lily shines is in its display and its responsive, monochromatic touchscreen, which is easy to use, even in direct sunlight. This would make a brilliant first-time smartwatch for the fashion-conscious shoppers out there, especially someone with a smaller wrist. It's also one of the best cheap smartwatches on the market. 
The Garmin Connect app lets you see all your data at a glance in an easy-to-read format. Depending on your tracker, it'll give you deeper insights, such as your body battery (based on your sleep data) and your fitness age. There are also challenges, and in-depth sleep reports for you to keep an eye on.