Nothing can ruin your feet faster than an ill-fitting, unsupportive pair of shoes. If you're on your feet a lot, a good quality set is even more important.  Hoka One One (henceforth called 'Hoka') manufactures and distributes high-quality and high-performance footwear for anybody, from professional athletes to everyday people trying to get the most out of their footwear.
Hoka was founded in 2009 by Nicolas Mermoud and Jean-Luc Diard in Annecy, France. The two launched the brand in a bid to design shoes that would make it easier for them to navigate difficult terrain and run downhill. Hoka running shoes quickly became beloved by all kinds of athletes for their enhanced cushioning and rigid stability. Hoka's corporate office is located in Goleta, California. The company operates as a subsidiary of Deckers Brands, who purchased the company in early 2013.
Hoka manufactures their footwear in China and ships internationally. The brand also sells their popular footwear in major retailers in several countries across the globe.
Hoka Men's Clifton 8
The Hoka Men's Clifton 8 runners are a lighter-weight take on the previous Clifton models thanks to a more airy and reactive make with its EVA foam. The shoes are designed with a breathable mesh upper, a  grippy and durable rubber sole, and a gusseted tongue. The runners are offered in 8 different colors and 2 fits, including regular and wide.
You can grab a pair of these beauties (a total improvement on the Hoka Clifton 7s) for $130.
Make way for the Hoke One One Bondi 6, the latest in the brand's search for ultimate foot comfort. Featuring generous helpings of cushioning technology, this shoe is all about softness from sole to upper.
The heel in particular is made to absorb to provide quality support and shock-absorption while keeping everything where it needs to be. Featuring a full-length, compression-molded EVA midsole and an internal heel counter, it's safe to say that this product has got the goods.
Get the 100% vegan Hoka Bondi 6 on sale for $120, regular price $150.
What elevates the Hoka Men's Bondi 7 from its previous model is the new memory foam collar that is designed to accommodate a narrower heel and provide the utmost support to the Achilles tendon.
The Hoka Bondi 7s feature TPU overlays for more midfoot structure and support. Otherwise, you're getting the same EVA midsole, mesh upper, frames, and supports that appear in previous models.
The runners come in 12 color combinations, ranging from neutral to vibrant and everything in between. If you're looking for something that can double as a walking shoe, check out a pair of the Hoka Arahi road shoes.
These fan-favorites are available in regular, wide, and extra-wide fits for $150.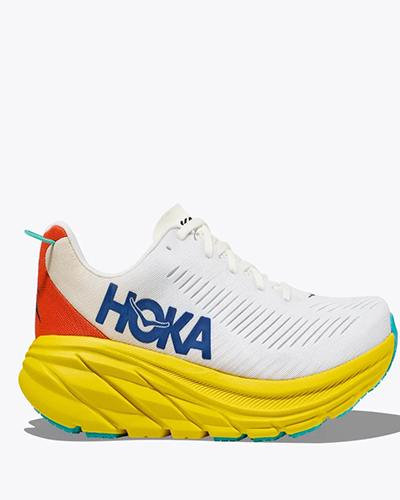 Not only are the Hoka Men's Rincon sneakers popular among customers, but they have been named "Editor's Choice" by Runner's World. The shoes are aesthetically stunning, with their sleek asymmetrical design and stripped-back profile.
They feature a full compression EVA midsole, mesh upper, accentuated heel pull tab, and a slim tongue package, among many other supportive and performance-enhancing technologies.  Hoka only offers this model in one sleek color between sizes 7-15.
There is a sale going on where you can grab a pair of the Hoka Rincon for $116, down from the original price of $145.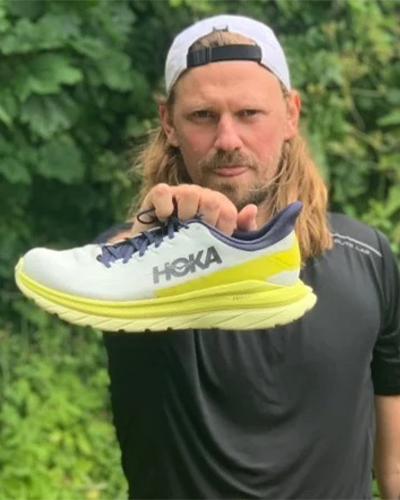 You'll be going Mach 4 in these lightweight, supportive runners that are softer and more cushiony than their previous iterations. The Hoka Men's Mach 4 runners feature a PROFLY midsole and a durable rubberized EVA outsole for ultimate cushion, along with a removable EVA sockliner and anatomical Achilles-embracing construction for support and comfort.
You can find the Hoka Mach 4 in 5 colors on the brand's website for $130.
Did you know that women typically tend to have more foot problems than men? We sure didn't. That is even more reason to invest in a pair of Hoka One One ultra-supportive sneakers to protect your feet from injury and pain.
Hoka Women's Bondi 6
The fan-favorite Hoka Women's Bondi 6 are the epitome of cushioned comfort all condensed into a cute pair of shoes. An open and breathable mesh upper is fitted with a supportive lycra heel frame, a cushiony EVA midsole, and a grippy rubber outsole.
The vegan running shoes are amplified with technologies such as a bevelled heel design, a Meta-Rocker, and an internal heel counter. Unfortunately, these runners are currently unavailable, but keep checking in to see when they're back in stock.
Feel like you're flying across the pavement with the lightweight and flexible Hoka Women's Bondi 7 runners, which according to the brand, are the most cushioned shoes in the Hoka road-shoe lineup.  The Bondi 7s feature the same full EVA midsole, breathable mesh upper, durable rubber outsole, and signature Meta-Rocker technology as its previous model, but are elevated with the addition of TPU overlays for midsole support and a memory foam collar for Achilles tendon comfort.
Get them in an array of color combinations for $150.
The sleek and stylish Hoka Women's Rincon sneakers were featured in Runner's World "Editor's Choice" Fall 2019 Shoe Guide. The asymmetrical design, stripped-back profile, and pull tab give the shoe a sporty and futuristic appeal. The shoes feature supportive technologies such as a full compression EVA midsole, high abrasion rubber zones, and a Meta-Rocker, and so much more.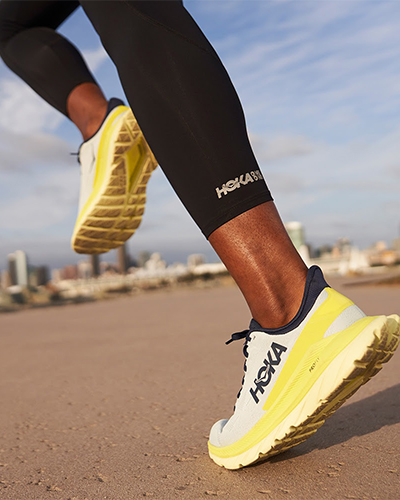 The Hoka Women's Mach 4 runners are perfect for running long distances and getting those miles in. A PROFLY midsole and a rubberized EVA outsole meet with a removable, molded EVA sockliner for unmatched cushioning and comfortability. The engineered mesh upper also ensures that you will have an enjoyable, dry run.
Hoka offers these runners in three colorways for $130.
The brand has great reviews on their actual products, but poor reviews on customer service practices. With that in mind, it might be better to buy the shoes from an in-person retailer than through the site itself. Fortunately, some customers say that they had no problem on-site and in-person, and that's something that this Hoka shoes review can get behind.
When it comes to the merits of the actual shoes, there are so many to take into account. According to the breakdown of the technologies in each Hoka shoe, they provide a ton of support for individuals with any orthopaedic history to enjoy any kind of activity. At the end of the day, Hoka is an easy brand to recommend and we deem them to be worth the buy.