New Balance traces its origins back to 1906, when William Riley founded New Balance Arch Company in Boston and began selling arch supports for shoes. The company didn't make its first pair of sneakers until 1938, but New Balance quickly earned a reputation for high quality. Its first breakthrough came with the release of the Trackster running shoe in 1960, which was designed to fit feet of different widths—a novel idea at the time. By 1976, New Balance's 320 running sneaker became the No. 1 shoe on the market and cemented the company's status as a global leader in running.
Fresh Foam X 860 v12 - $134.95
Although many stability shoes can feel a bit clunky underfoot, the 860 supports a healthy stride without weighing you down, and it makes a great trainer for moderate overpronators. The Fresh Foam midsole cushions impact forces, a medial post counters overpronation, and an Ultra-Heel keeps the back of your foot from moving around. The latest version comes with an updated mesh upper featuring embroidery and a double-knit construction at the top of the foot for added support.
FuelCell Prism v2 - $109.99
Speed and stability are two traits that generally don't go together in running shoes, but the Prism proves you can get both at the same time. "It's kind of like the Rebel but with a stability post," Runner-in-Chief Jeff Dengate says. Like its speedy sibling, the Prism features FuelCell cushioning, which saves weight and creates a lively ride. But the addition of the medial post in the Prism's midsole corrects overpronation and provides support as you run. Although it's not quite as peppy as the Rebel, it's a great speed training pick for runners who need extra guidance in their stride.
Fresh Foam 880 v11 - $134.95
The 880 is everything you want in a workhorse training shoe: It's built to last, feels comfortable, and delivers a snug fit. After a major update with the v10, not too much has changed on the eleventh iteration. A Fresh Foam midsole delivers a plush feel, the new jacquard mesh upper is optimized for breathability, and a generous rubber outsole lends dependable grip and durability for demanding training schedules.
Fresh Foam Beacon v3 - $90.00
For long runs or speedwork, the Beacon is a true do-it-all shoe. Like the previous iteration, the v3 uses Ground Contact Fresh Foam in the midsole; this variation on New Balance's flagship foam is designed for increased durability. That means the shoe can get away with less outsole rubber, saving weight (compared to most shoes). The v3 also comes with a new upper for a significantly improved fit.
Fresh Foam Hierro v6 - $134.95
A popular and award-winning trail shoe, the Hierro continues with the formula that has won it such a loyal following: a soft Fresh Foam midsole paired with a rugged and extra-grippy Vibram outsole. Although it lacks a rock plate, the plush midsole does a good job of soaking up shocks and bumps on the trail. The textile upper has laser-cut perforations for breathability, and it's woven with TPU threads for extra support and protection. Bottom line: It's a capable performer for everyday trail running.
Fresh Foam X 1080 v11 - $149.99
Supremely soft but without the mushy feel of other maximalist shoes, the 1080 is a great pick for runners looking for something plush. The v10 was a major update, and the changes on the v11 are relatively minor in comparison: A revised upper offers a more forgiving fit, especially for wider feet. The Fresh Foam midsole is tuned for soft cushioning but offers a lively feel that doesn't sacrifice energy return.
FuelCell RC Elite v2 - $229.95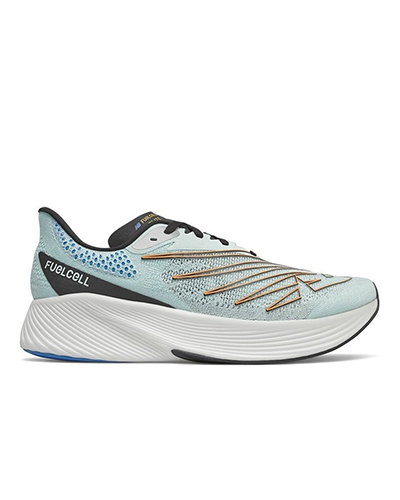 The RC Elite is New Balance's top-tier distance racing shoe, and it's built for half and full marathons. The second version continues with the formula that made the original such a compelling offering: A thick layer of responsive FuelCell cushioning paired with a full-length carbon fiber plate in the midsole. The lightweight knit upper breathes well and features a soft collar for a comfortable fit. Elsewhere, the partial rubber outsole offers good traction and durability. This is undoubtedly one of the stars of the New Balance lineup—Runner-in-Chief Jeff Dengate calls it "insanely bouncy and fast."
Fresh Foam Vongo v5 - $149.00
When it debuted in 2016, the Vongo was designed to offer Fresh Foam plushness and some additional stability—but without traditional support features like a medial post. Its fifth iteration, however, embraces one of the classic hallmarks of a support shoe: It now comes with a medial post to guide your foot through each stride. Even so, it's relatively light, and the Fresh Foam cushioning creates a soft, lively feel underfoot. Combined with a durable outsole, the Vongo makes a capable trainer for longer efforts and runners who like a little extra support in their shoes.
FuelCell Rebel v2 - $129.95
The Rebel is all about energy return, and that makes it a great pick for up-tempo training. The original Rebel tested way above average for energy return in our lab tests, and New Balance claims the v2 is even more responsive, so you can expect a very lively shoe. It's made with FuelCell foam for a snappy feel underfoot, and it comes with a redesigned mesh upper that maximizes breathability and saves weight.
Many of the shoes above have been tested by staff here at Mishlers Fitness and the team of over 300 active wear-testers, which includes runners of all ages and speeds living both locally near our Pennsylvania headquarters and across the continental U.S. We put at least 100 miles of running on each shoe to thoroughly assess how it performs.