PUMAs' latest collection of running shoes signals the birth of a new generation of runners. Those, who strive for change – for themselves and in general. Therefore, PUMA have developed a line of running shoes for different runners and for different types of running. The common denominator is that they are all built around the same key features. This goes for the midsoles among other things which are produced with PUMAs NITRO-foam while the outsoles are designed with the versatile PUMAGRIP.
The new PUMA running shoes all aim to make running effortless – regardless if you are going for long, short, quick or slow runs.
The consistent feature in PUMAs new collection is the NITRO-foam midsole. The feather light foam is designed to give runners a light and comfortable workout by minimizing obstacles and maximizing efficiency. This is done by making the NITRO-foam extremely light, cushioning and responsive.
PUMAGRIP is PUMAs new performance outsole designed and developed to handle all challenges. PUMAGRIP is very durable and provides a great grip on asphalt as well as a number of other surfaces. The outsole is also developed to provide a great grip during wet weather conditions. All models from PUMAs latest collection have been designed with PUMAGRIP.
In the latest collection, PUMA have decided to focus especially on women and how their feet differ from men´s feet. Therefore, the women´s models are designed to provide a better and more comfortable running experience for women. This means that the women´s models:
are designed with a narrower heel
are designed with a lower instep
are adapted to and shaped according to women´s arches
have been tested by female runners in the developing phase
See the best PUMA running shoes of 2021 here:
– Best neutral high-mileage training shoe
VELOCITY NITRO is PUMAs all-round high-mileage training shoe for the neutral runner. This running shoe is perfect for long and short workouts where you can enjoy superb cushioning and superior responsiveness. PUMA VELOCITY NITRO is also very light for a high-mileage training shoe and so its very suitable for progressive and fast runs. VELOCITY NITRO can be compared to the popular Saucony Ride, Nike Pegasus, Mizuno Wave Rider and Asics GEL-Cumulus – bearing witness that VELOCITY NITRO is a terrific running shoe!
BUY FOR MEN – $ 89.90
BUY FOR WOMEN – $ 89.90
– Best high-mileage training shoe for the pronation runner
PUMA ETERNITY NITRO is a stable high-mileage training shoe for the pronation runner. ETERNITY NITRO can be seen as a counterpart for PUMAs neutral running shoe – VELOCITY NITRO – and is therefore equally suited for high-mileage training on a variety of distances. Like the other models in this piece, PUMA ETERNITY NITRO is equipped with the very nice NITRO-foam midsole to provide a responsive running shoe with superb cushioning.
But what the other models don´t have is PUMAs RUNGUIDE, which is the stabilizing element keeping your feed in the center during your landing/take-off. You lead the way – and ETERNITY NITRO enables you to keep a straight line.
BUY FOR MEN – $ 174.80
BUY FOR WOMEN – $ 173.55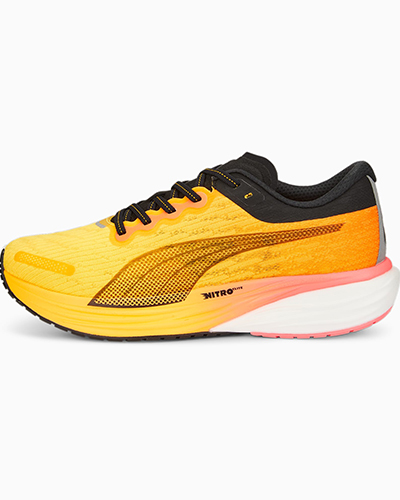 – Best shoe for long, pacy runs and races
DEVIATE NITRO is PUMAs first running shoe with a carbon plate in the midsole providing ultimate energy for your take-off. Carbon plates have gradually become a regular component in many competition shoes. And now PUMA launches their version of a fast-running shoe for long runs in particular, half marathons and marathons. The midsole represents the perfect combination of an incredibly soft and bouncy comfort without the shoe feeling unstable.
PUMA DEVIATE NITRO has a hot and modern look with its neon-red, half-transparent color – and we are completely hooked on it!
BUY FOR MEN – $ 199.77
BUY FOR WOMEN – $ 141.09
– Best shoes for intervals and shorter races
PUMA LIBERATE NITRO is ideal for the runner who wants to do very fast intervals or i.e. a fast 5km. It has great cushioning thanks to the soft but responsive NITRO-midsole-foam. LIBERATE NITRO is one of the absolute lightest running shoes around, and you can be certain that this pacy racer keeps you on your toes as you whiz across the surface. You should definitely try it out if you are aiming for records this year.
The upper is only slightly padded to make the shoe breathable and preserve its lack of weight so the speed of the shoe isn´t compromised.
BUY FOR MEN – $ 137.34
BUY FOR WOMEN – $ 143.59
Puma Magnify Nitro is the running shoe for the one who is looking for total comfort on long runs or during easy-going jogging. The cushioning is outstanding and you can really feel the softness of the Nitro. The shoe is very breathable and just feels really comfortable. In addition, Puma Grip provides a great grip.
BUY FOR MEN – $ 249.72
BUY FOR WOMEN – $ 177.30
The Puma Deviate Nitro Elite Racer is the perfect running shoe for the one who is looking for speed. It's a shoe perfectly suited for setting new personal records. Puma Deviate Nitro Elite Racer is a true lightweight shoe and you hardly feel it when you are working out. The midsole has been designed with a carbon plate in between the Nitro material which provides plenty of return energy. The upper is completely thin and very breathable but has a terrific fit.
BUY FOR MEN – $ 249.72
BUY FOR WOMEN – $ 177.30
The Puma Elite is absolutely a contender in the super shoe world. We personally love the original Nitro Elite, so this addition to the lineup was a warm welcome. We should also note that PUMA has made some updates to the production model of this shoe. If this is the direction Puma is heading, we are here for all of it. We are happy to report that we are genuinely shocked at how much we loved this shoe. I can't wait to take it out for more speed workouts and race day throughout the year. It's definitely giving my favorite race day shoe, the ASICS Metaspeed Sky, a run for its money.