Adidas earned its place in the footwear and athletic apparel industries by staying true to what motivated its founder, Adi Dassler, nearly a century ago: listening to athletes, and making products that address their needs. Dassler started a shoe company in Herzogenaurach, Germany, in 1924, and he scored his first running shoe successes soon afterward—Lina Radke won a gold medal at the 1928 Olympics while wearing his shoes, as did Jesse Owens in 1936. Dassler's commitment to innovation and performance became a hallmark for the company (which he gave the moniker Adidas in 1949) that grew the three-stripes brand into a household name.
More recently, Adidas shook up running shoe construction with its Boost foam in 2013. Instead of traditional EVA, this new cushioning material used thermoplastic polyurethane (TPU) capsules developed by the German chemical company BASF. The resulting foam delivered responsive support that was more durable and provided greater energy return than earlier cushioning systems, and Adidas dubbed it Boost. The foam debuted on the Energy Boost shoe in 2013, and it set a new standard for superior cushion that didn't add weight or degrade after high mileage. Rival shoemakers quickly followed suit with their own proprietary cushioning materials, which sparked the current foam craze.
But Boost isn't the only foam in the Adidas lineup. In 2020, the brand released the Adizero Pro shoe, and it featured the brand's new Lightstrike cushioning. This TPU-based foam was originally developed for Adidas basketball shoes, but its low weight and high energy return made it a good pick for speed-focused running shoes as well. It's now found across the Adidas range, including in the Adizero Adios Pro and SL20.3.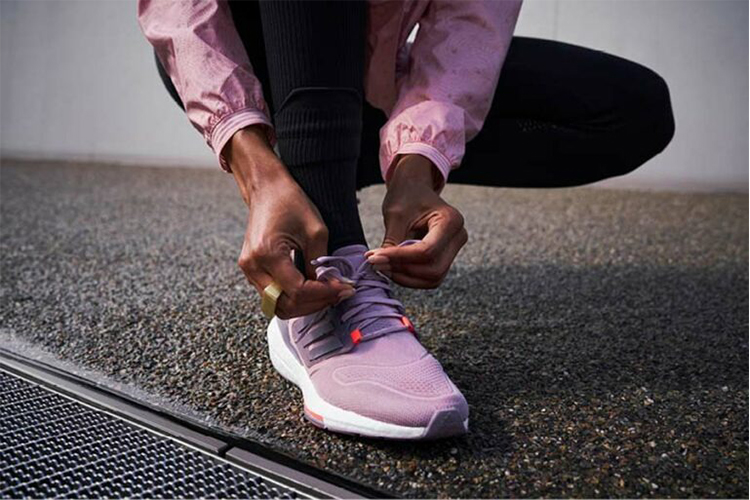 Adidas continues to refine its foams, but there's other tech worth noting as well. Tailored Fiber Placement debuted in 2018 with the Solarboost, and this new design technique, which involves individually placing each fiber of the upper, creates an extra snug fit around your foot. Another Adidas hallmark is the Adidas Torsion System, which debuted in 1988. It's a lightweight plastic arch support that allows independent movement of the heel and forefoot. It's found on many of the company's kicks, including the Ultraboost, and it helps alleviate arch strain by letting your foot move more naturally and adjust to uneven ground as you run.
Another recent innovation is Energyrods, which appeared on the Adizero Adios Pro in 2020. This tech consists of five carbon-infused rods embedded in the midsole to line up with the metatarsal bones in the forefoot. Like the carbon fiber plates found in other brands' shoes, the Energyrods help create a snappy, propulsive feel and increase running efficiency for sustained speed. They're now found in shoes like the Prime X and Adizero Boston 10 as well.
Adidas's Torsion System provides support without compromising flexibility through the midsole.
Our team of over 350 wear testers includes runners of all ages and speeds living both locally near our Pennsylvania headquarters and across the U.S. Between our testers and Runner's World staff, we've run in many of the Adidas models below. And for those that we haven't personally laced up, we rely on our research, consultation with brand reps, user feedback and reviews, and our own extensive experience with both running and the running shoe industry. We also check data from our RW Shoe Lab, where we've tested and re-tested the energy return of Boost foam, measured the flexibility of Adidas's stabilizing Torsion System, and assessed the traction of its Continental rubber outsoles. Regardless of which shoe you choose, rest assured that we've thoroughly scrutinized the current
Introduced in 2015, the Ultraboost has long been the star of the Adidas running shoe lineup. It's a capable performer, especially if you're looking for a cushioned shoe. The Boost foam midsole creates a well-cushioned, bouncy ride, and the shoe features a stiffer torsion system for added responsiveness. The full Continental rubber outsole creates dependable grip in wet or dry conditions (it improves the shoe's durability, too). Better yet, the women's version of the 22 was created with a new last developed through extensive research on the shape of women's feet, so female runners can expect an improved fit.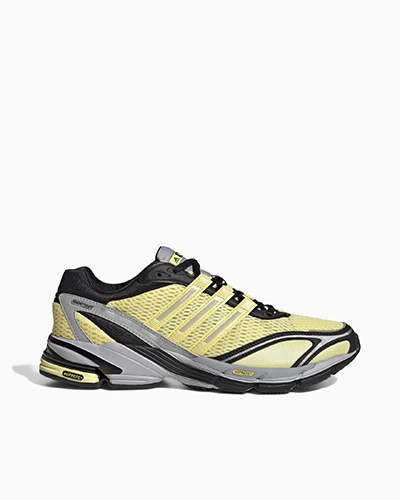 The new Supernova is a revelation for the company's Supernova line—and for the $100 shoe category across the board. Previous renditions were well-cushioned and protective for long runs but clunky and heavy underfoot. Now, the shoe feels like one of the smoothest around, with Boost heel cushioning that soaks up braking forces and seamlessly transitions to a soft EVA foam forefoot. At a 10-minute or five-minute pace, the Supernova feels brilliant and livelier underfoot. The mesh upper is similarly great; there are no hot spots or uncomfortable seams, and a snug midfoot fit opens up into a spacious toe box.
ADIZERO ADIOS PRO 2.0 - $132.00
Instead of a plate, the Adios Adizero Pro uses five carbon-fiber rods placed in line with the metatarsal bones. This makes the ride a little more controlled than a shoe with a full plate, which can sometimes feel unpredictable at toe-off. Even with its towering 39-millimeter midsole of Adidas's LightstrikePro foam, the unisex shoe felt quick, responsive, and reliable. (Plus, a part-carbon fiber, part-nylon heel plate also boosts stability at the ankle joint, which can help when your form fatigues in those final marathon miles.) The one real drawback is that the outsole skimps on traction; it'll suffice for dry roads but won't deliver the grip of Continental rubber.
Adidas launched the SL20 line in 2020, and from the outset, these shoes were designed for speed training. The latest version, the SL20.3, continues in that mold with a Lightstrike midsole that offers excellent responsiveness, low weight, and a firm base for explosive toe-offs. Like previous versions, the upper is constructed for a supportive, snug fit, and the high-coverage outsole should hold up well through demanding training routines. Affordable, light, and fast, the SL20.3 is a compelling pick for runners who do a lot of speedwork.
SOLARGLIDE 4 ST - $140.00
The SolarGlide is a strong choice for runners who are looking for some extra stability in their shoes. Like the previous version, the latest SolarGlide features a three-quarter length wedge of Boost foam for good cushioning and energy return. It's paired with a torsion system for arch support and what Adidas calls a Stable Frame, which are areas of firmer foam around the edge of the shoe, to guide your foot and counter overpronation. Plus, it comes with a Continental rubber outsole for dependable traction and durability.
ADIZERO PRIME X - $250.00
The Prime X is designed for tackling long distances, and like the Boston 10, it's based on much of the same tech as the Adizero Adios Pro 2, but it's more experimental. The unisex shoe features a generous wedge of foam (the heel stack height is a towering 50 millimetres) made from three layers of Lightstrike cushioning plus carbon-infused Energyrods under the forefoot. The result is an exceptionally springy shoe, but it's not for everyone. "It's a trippy sensation," Runner-in-Chief Jeff Dengate says. "Super bouncy but also really unstable."
ADIZERO BOSTON 10 - $89.33
The Adizero Boston 10 is the training counterpart to the racing-focused Adizero Adios Pro 2. It features some of the same tech found in its racing sibling, including Lightstrike TPU and EVA-based foams and carbon fiber rods in the midsole. That creates a responsive, peppy ride, but there's enough cushioning to keep your feet protected. The Continental rubber outsole creates plenty of grip and increases the shoe's durability, too.
Will the running shoes of the future be manufactured through 3D-printing? Adidas is already giving it a try with the 4D FWD. Armed with extensive data on athlete foot strike patterns, the company developed the shoe's unique 3D-printed lattice sole to reduce braking forces in a runner's stride. Upon impact, the lattice compresses forward, not straight down, which helps translate vertical impact forces into forward motion for a smooth, propulsive ride. It's an exciting concept, but our testing shows it could use a little more refinement. "It's still a little too heavy and too stiff, but surprisingly you can run in a 3D-printed shoe," Runner-in-Chief Jeff Dengate says.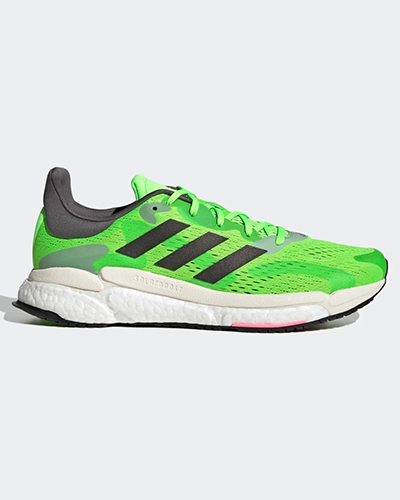 The Solar boost is designed as a workhorse trainer, and it's well-suited to high-mileage efforts. Highlights include a full-length Boost midsole for a cushioned-yet-responsive feel underfoot, and it's paired with an EVA guide rail and a torsion system to support your feet—especially helpful features when you're fatigued and your form starts to suffer. The durable Continental rubber outsole creates good grip, and the mesh upper offers a supportive, breathable fit.