For more than 40 years, NordicTrack has been a household name in the home fitness industry, offering premium, reliable exercise gear for both residential and commercial usage.
Users may enjoy a terrific workout on their own or with the aid of the brand's feature-rich iFit app thanks to the equipment' availability for cardio, weight training, and stretching.
Since quite some time ago, the company has been creating waves in the fitness industry, garnering countless media placements. In People, NBC News, USA Today, Healthline, Greatist, Forbes, and Gear Junkie, NordicTrack reviews are easily found.
The business also boasts sizable followings on Facebook, Instagram, and YouTube, with 275k, 305k, and 15k followers, respectively.
This NordicTrack review will offer you a synopsis of the company and its top-selling products. We'll also look at customer reviews, information on discounts, and more to determine whether the brand's intelligent, in-home fitness equipment is the best option for you.
Some people think that NordicTrack invented the at-home exercise craze. Edward and Florence Pauls launched the company in Minnesota in 1975.
NordicTrack has evolved its products over the past 46 years to match the ever-increasing demands of contemporary workout aficionados.
The fitness industry has grown enormously since the brand's foundation, going from being a nonexistent sector to one of the largest marketplaces in the world.
We are grateful to NordicTrack for their vision and creativity throughout the years, which have enabled individuals all around the world to strengthen and surpass their fitness objectives.
This NordicTrack review will inform you of the benefits and drawbacks of the brand now that you are aware of its history…
Provides a wide variety of high-tech exercise equipment, such as NordicTrack Rowers, Stationary Cycles, Ellipticals, and Treadmills.
They have been a recognized name in the industry for more than 40 years.
Financing options are offered, and the company offers a variety of pricing and models.
They provide 10-year, 2-year, and 1-year guarantees on their goods.
Offered at a variety of retailers, including Walmart and Best Buy.
With a 1-year free subscription, the iFit app provides you access to over 17k on-demand exercise sessions.
Shipping is free for smaller goods.
30-day returns without difficulty.
NordicTrack iFit Memberships cost $369 a year after the first year is free.
Machine shipping costs $200, which is rather expensive.
Shipping back is $250.
Bring your preferred piece of exercise gear inside. The best-selling ellipticals from NordicTrack, ranging from their condo-friendly, space-saving model to machines with cutting-edge technologies and built-in HD displays, will now be covered in this review.
The best technique to work out with minimum impact and high intensity is on an elliptical machine. Because of their customizable range of motion and resistance, you may entirely tailor the workout to achieve your objectives.
The sole constraint on these devices is available space. Most homes just lack the space since they are often broad and boxy.
The SpaceSaver SE7i fixes that issue since, if it's the only available space in your home, it can fit between your wall and couch in the living room.
With this elliptical, the machine itself is only the top of the iceberg. When you consider the many features that are included with it through the iFit subscription, the real fun begins.
This elliptical has a 5-inch illuminated display unit so you can view your data in low light. To truly challenge yourself, use the iFit interactive training programs. Alternatively, use the 10% incline settings and 22 digital resistance levels to take control of your exercise.
Make good use of your space with the $1,300 SpaceSaver SE7i.
With the Commercial 14.9, add smart features to your home and intensify your workout.
You may follow along with one of the numerous workouts available on the app on the 14-inch HD touchscreen monitor.
You may change the machine's 20% inclination and 26 degrees of resistance, as well as how long your stride is to focus on particular muscle groups.
With its cushioned foot pedals, cozy hand grips, and cooling fan, this elliptical keeps comfort in mind while fending off the assault of perspiration from a strenuous workout.
Up to 350 pounds may be supported by this device. With this robust $2,000 elliptical machine, you can intensify your training.
Even if you have the ability to do anything, sometimes you just need a little push. The Commercial 9.9 elliptical makes working out enjoyable by enabling you to view fitness videos on demand, listen to music, and put yourself to the test with built-in routines.
You may complete a variety of workout regimens available on the iFit app without using your mobile thanks to the 7-inch Smart HD Touchscreen.
Look at the NordicTrack Elite 10.9 Elliptical with an iPad clip if you'd like the option of utilizing your tablet.
The iFit automated trainer, which changes the difficulty and inclination of your machine for you, can help you stay motivated.
To get pumped up and have a fun, energizing exercise, pair your phone with Bluetooth and play your favorite music over the two digitally enhanced speakers.
With the customizable stride, 22 different degrees of resistance, and a 0–20 percent slope, you can discover your sweet spot.
The $1,300 Commercial 9.9, which supports people up to 350 lbs, will let you to surpass your exercise objectives.
Running outdoors with the breeze in your hair is such a liberating experience, but running indoors with a powerful fan is a pleasure in and of itself.
The best-selling treadmills from NordicTrack are highlighted in the section after this one, which ranges from affordable models with basic functions to more sophisticated ones with HD screens to keep you motivated.
Running has a terrible record for being difficult on your joints, and treadmills are infamously noisy and clumsy. With its clever features, the NordicTrack 1750 resolves both of those problems.
With this treadmill's cushioned, broad 22″x60″ belt and soothing exercise fan, which can support up to 300 lbs, you can maintain your stride stability and keep your knees pain-free.
Use the 10-inch smart HD touchscreen monitor to follow along with your favorite trainers, and the Bluetooth headset to keep motivated when your children are watching Saturday morning cartoons on the couch next to you.
The inclination options range from -3 to 15%, while the speed options range from 0 to 12 mph. For $1,800, crush your exercise with the Commercial 1750.
The NordicTrack X22i, which has sled push bars for harder physical activities, is a step up from this model.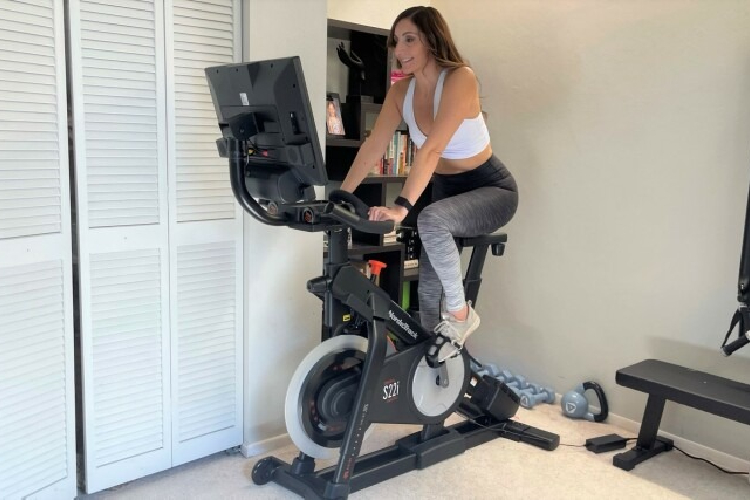 You adore exercising. Your body and mind benefit much from it, but you wish it weren't so strenuous on your joints.
The Commercial X32i sports a broad cushioned belt that mimics road jogging and lessens knee stress. To obtain a really tough exercise, scroll between 1-12mph speeds and -6-40% inclination.
The 32-inch smart HD touchscreen monitor keeps your eyes on the road ahead while allowing you to follow along with on-demand exercises via the iFit app.
Use the two 3-inch speakers to play your exercise aloud or use Bluetooth headphones to keep it private. The price of this efficient, silent machine is $3,800.
Try the NordicTrack Commercial 2950 if you require a similar type but don't need as much inclination. The only difference between these two machines is the size of the monitor.
We value a machine's adaptability. With the EXP 10i, you have complete control over your workout or you may work with a trainer who will modify your run for you automatically.
With the -3-12% inclination and 0-12mph speeds, you can warm up or chill down. The FlexSelect cushioning will keep your body pleased no matter the distance by reducing the pressure on your joints while you work to achieve your objectives.
By selecting the automated trainer control option, you may let a trainer take over and keep you moving in the right direction. With a 10-inch smart HD touchscreen monitor, you can access the iFit app's inspirational exercise videos whenever you choose.
A machine that is quieter, eliminates vibration, and cools itself might make running more pleasurable. This device has a compact design that makes it simple to fold and store.
With the EXP 10i, in charge of your workout, for $1,600. The NordicTrack 2450 is a comparable but significantly more sophisticated device that's worth looking into.
Not everyone requires a large screen or additional motivation to complete an excellent exercise. For individuals who wish to spend less money and obtain the essentials, the T 6.5 S Treadmill is a fantastic choice.
You will be able to view all of your numbers, even at 5 am before the sun has risen, thanks to the 5-inch backlit LCD monitor. You may choose from 20 pre-programmed programs that the machine will automatically modify for you because the unit is iFit compatible.
This treadmill features a heart rate monitor so you can know exactly what zone you're in and can be connected to an iPhone if music is your thing.
The FlexSelect belt keeps your joints comfy while providing 0-10mph speeds and 0-10% inclination while supporting up to 300 pounds. Enjoy your workout on the affordable T 6.5 S Treadmill, which only $600.
Cycling offers people a variety of workouts and is enjoyable and low-impact. There is no doubt that at-home spinning cycles offer challenging, varied workouts, from recuperation days to the routines you push to the maximum.
High performance bikes from the NordicTrack brand are regarded for being of the highest quality and helping you achieve your fitness objectives.
Commercial S22i Studio Cycle
After completing their cycle, users of the Commercial S22i Studio Cycle have the option to continue their training on the floor. Along with this stationary cycle, you'll also receive a pair of two 3 lbs. weights for arm-strengthening exercises.
When using road bike pedals, clip your spinning shoes in or merely insert your foot into the adjustable strap.
When not in use, this cycle is simple to transfer, but since it comes with a 22-inch rotating smart HD touchscreen monitor, there's no need to wheel it in front of a TV.
Your NordicTrack S22i bike will modify itself based on the training preset you select while using automated trainer control. The two 2-inch speakers may be used to play your exercise music or to pair your wireless headphones through Bluetooth.
This NordicTrack cycle has 24 levels of resistance and an inclination of -10 to 20% using silent magnetic resistance. For $2,000, you may get the workstation of your dreams that supports 350lbs.
In addition to any elliptical, treadmill, or spinning cycle, it's a good idea to keep a solid pair of weights on hand. It's vital to balance your exercise by include upper-body strength training in addition to the three machines' primary emphasis on cardio and leg development.
Amazing is how you describe the Select-A-Weight 55Lb. Dumbbell Set. Because of its small, practical form, it takes up less room in your house and offers two weights with a range of 10 to 55 pounds.
A one-year membership to the iFit app is included with this pair of NordicTrack adjustable dumbbells, giving you access to a variety of strength training routines.
Build your physique with this $600 weight set, or use the NordicTrack Fusion CST to mix strength and cardio in a single machine.
We already know that the company offers a wide variety of goods, and we enjoy what we see. However, a NordicTrack review wouldn't be complete without consumer feedback.
We looked online for enlightening customer testimonials that may provide more information about NordicTrack exercise equipment. Reviews from the brand's website, Amazon, Walmart, and Reddit are included below.
There are no star ratings for the machines on NordicTrack's website, rather they only feature reviews for the actual exercise plans, many of which are quite favorable. We choose to focus on their Select-A-Weight 55 Lb. Dumbbell Set for additional information.
Customers adore the variety of weights that these dumbbells offer, giving those who can't make it to the gym a home workout alternative. One positive review states, "Great product to replace your typical dumbbell sets that won't fit in your house! Very reliable and the adjustable weight options can provide you that extra 2.5 to 5 pounds on top of the existing weight."
Looking over the comments, there aren't many complaints regarding these dumbbells, however we did come across one that said, "Being a guy who likes to lift heavy I only wish these were heavier."
Fortunately, Amazon offers a selection of customer reviews for NordicTrack's fitness equipment…
T Series 6.5S Treadmill – 4.4/5 stars out of a whopping 14,545 reviews.
NordicTrack Commercial Studio Cycle – 4.3/5 stars out of over 2,800 reviews.
NordicTrack Commercial Series 1 Year iFit Membership – 4.3/5 stars out of over 2,500 reviews.
The NordicTrack C 700 Tre.
On Walmart.com, 189 consumers have given the NordicTrack C 700 Treadmill an average rating of 4.3/5 stars.
The quietness and ease of assembly of this treadmill have received 5-star evaluations. It is important to note that the brand also provides assembly services.
A Walmart review of NordicTrack provides information about the user's experience, saying, "I'm 5'9 with an average run gait and feel very comfortable on this treadmill to jog, run, and sprint. The iFit classes and trainers are amazing."
This model appears to be a wonderful choice and has all the functions required for an excellent exercise.
Negative reviews typically include functional problems, including the belt beginning and stopping or the machine completely shutting off.
According to a complaint, "After spending 4 hours getting it in place and assembling it, then trying to use it, the belt speeds up, slows down, speeds up, slows down. Getting it back in the box is impossible."
When you're eager to use it, this definitely seems like a nuisance. NordicTrack would pay for the cost of return shipping in this scenario and send you a replacement unit.
On Reddit, there is a large NordicTrack forum where customers may submit queries and grievances regarding the company's products. One client questioned whether NordicTrack was truly as horrible as their internet reviews indicated.
In response, a knowledgeable user provided a NordicTrack review that stated, "People (like me) who have never had a problem and love their machine don't post the good stuff. There might be some treads with issues, but that's not the majority. We've had the X22i for 6 months now and love it."
Like any other piece of training gear, NordicTrack equipment is prone to malfunction. When you purchase a product with so many moving parts, it is a given.
The manufacturer offers a guarantee that covers a range of problems, and if your machine is delivered broken, they'll fix it or give you a replacement.
Can NordicTrack be trusted? Numerous consumers have praised the brand's items as being excellent.
For more than 40 years, NordicTrack has been a reputable household name. Their tools and machinery are dependable, and the company sells a variety of types at various rates.
Additionally, they have financing alternatives and all of their machines, including more costly treadmills like the NordicTrack 2950, have excellent warranties.
For all of these reasons, customers may feel secure purchasing from this firm, and the numerous positive internet reviews are also quite reassuring.
Unfortunately, a fairly unflattering NordicTrack truth was discovered during this evaluation. Proposition 65 warning labels are placed on products to inform consumers that some substances may lead to cancer, birth defects, or reproductive damage.
Although we are unsure how many users of the brand's equipment have been negatively impacted at the time of this evaluation, it is important to note.
In light of all of this, the majority of customer evaluations are positive about the brand's products, and there are just a small number of concerns involving faulty machinery and possibly dangerous substances.
This NordicTrack review suggests the brand to all fans of indoor exercise.
Can you trust NordicTrack?
Yes, NordicTrack creates incredible exercise gear. Our concerns about the brand are allayed by a detailed NordicTrack study, which reveals that the company is renowned for building dependable and effective equipment and is well-known in the US.
NordicTrack devices come with a 2-year components guarantee and a 10-year frame warranty.
Does NordicTrack Offer Financing?
Customers may be able to pay for their NordicTrack fitness equipment in full up front or by using a credit card since the company offers a variety of pieces at various pricing points. Two financing options are available from NordicTrack if you'd want to spread out your payment:
No Interest if Completely Repaid in 18 Months – Your treadmill may be paid off in convenient payments. There is a minimum monthly payment you may make, however any money owing after 18 months will be subject to interest charges.
Pay a set amount over the chosen length of time at 0% APR for 12, 36, or 39 months.
You may get a free year of access to the iFit app when you buy any NordicTrack equipment or machinery.
The app not only offers more than 17,000 exercises conducted by elite trainers, but those trainers also customize the equipment to your needs, encouraging you to achieve your goals.
You can use Google Maps 2 with iFit to travel anywhere in the globe while having access to virtual runs. To assist you achieve those PRs, you will be able to track and record your performance. The iFit app now supports up to 4 users, allowing the whole family to participate.
We'll provide you with additional details on the many equipment kinds and models that the company sells in the next portion of our review, including their elliptical, treadmills, stationary cycles, and dumbbell sets.
Are NordicTrack products from China?
We discovered that a significant portion of their parts are manufactured in China after conducting a web search. On the precise manufacturing and assembly locations of particular items, there is no direct information.
What's NordicTrack shipping cost?
Most of NordicTrack's equipment come with a $200 standard shipping fee. Standard shipping is free for smaller products like their dumbbells.
How to track your NordicTrack order?
Within 1-3 business days, your NordicTrack purchase is shipped from their warehouse. The delivery window is 10–14 business days. Go to the Order Status tracker and enter your order number to see the status of your order.
Within 30 days of delivery, you can return your NordicTrack if you need to for any reason. There is a $250 return shipping charge for returns. You can be assessed a restocking fee if your item has defects or is missing parts.