Under Armour, originally a sportswear company founded in 1996 by University of Maryland football player Kevin Plank, didn't make its move into running shoes until 2009. Five years later, the brand began to gain traction with runners following the release of the SpeedForm line of shoes. Put simply, this lineup proved that Under Armour could produce a well-crafted running shoe to rival the success of its athletic apparel.
The SpeedForm technology capitalized on UA's apparel expertise and brought innovations from clothing manufacturing into running shoes. For example, the upper of the SpeedForm Apollo was actually constructed in a bra factory—an odd move at first glance, but the company's experience with textiles helped UA develop a fabric with a nearly seamless finish that provided a snug fit and great durability. Though much of the conversation today centers around midsole foams and cushioning, other parts of the shoe also have a significant effect on performance. This makes Under Armour's ability to craft comfy and breathable uppers a key skillset.
From Your Foot to Your Phone
In addition, Under Armour has worked to meet increasing demands for performance and connectivity. While Nike has been a dominant force in fitness tracking since the 2006 launch of Nike+, Under Armour has embraced software more than most other shoemakers and has become a leader in connected kicks. UA purchased fitness tracker company MapMyFitness in 2013 and proceeded to create an empire of mobile apps, like MapMyRun. For runners, the company's move into software has led to shoes that seamlessly integrate with tracker apps, which means easier access to stats and more feedback on your performance.
Not Just Running, Hovr-ing
In 2018, Under Armour launched a proprietary cushioning platform called Hovr, which has now replaced the company's older EVA-based Charged foam in many of its models. To make it, UA worked with Dow Chemical to create a new foam formula using olefin wax. The result was a more durable foam that hits the sweet spot between a cushioned ride, light weight, and a firm feeling at toe-off. (This unique formulation stands out from other brands' new foams, which often incorporate thermoplastic blends instead.) Hovr foam comes hand-in-hand with Energy Web, a mesh fabric that surrounds the foam core to help it maintain its shape and preserve energy return. In early 2021, UA unveiled Flow foam, the company's lightest cushioning material yet. It's durable enough to serve as both midsole and outsole, so there's no need for additional heavy rubber on shoes like the Velociti Wind.
How We Tested and Selected These Shoes
The shoes below are the top running models from Under Armour available right now. To select them, we consulted the brand's design team, reviewed feedback from our team of 225 wear-testers, and used our own knowledge and experience in both running and the running shoes market. We also analyze data from mechanical tests inside our Shoe Lab, where we've checked and re-checked the energy return of Energy Web netting, measured the softness of Hovr foam, and assessed the accuracy of UA's built-in midsole tracking. We've included shoes for a wide variety of preferences—from speed trainers to stability options—and have linked to full reviews where we have them.
Hovr Sonic 4 - $110.00 $82.50 (25% off)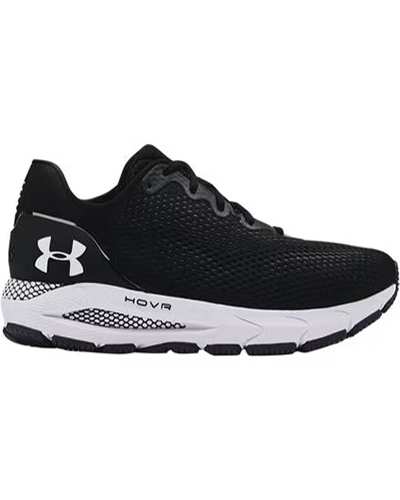 Since its debut, the Sonic has won praise for its winning combination of soft cushioning and lively energy return, and the latest iteration stays true to that formula. A compressive mesh called Energy Web tightly wraps the Hovr foam midsole, limiting its expansion, so more energy returns to you with each step. (It's still the same construction that's been used since the shoe's second version for a cushy yet responsive ride with "bounce factor that pops right off the tarmac," according to one of our testers.) An external TPU heel counter adds support while a mix of blown rubber and high abrasion rubber on the outsole ensures good traction and durability. In the Sonic 4, a revised stretchier engineered mesh upper breathes well and comes with built-in "wings" that wrap your foot for a snug fit. Overall, the Sonic feels comfortable for long runs but peppy enough for speedwork—a true do-it-all road shoe.
The Hovr Phantom is the cushier, slightly heavier sibling to the Sonic, and it's engineered for a plush experience. Like the Sonic, the Phantom's midsole is made up of Hovr foam wrapped in an Energy Web mesh, so the soft cushion retains its shape and provides plenty of energy return as you run. UA made some tweaks up top for improved support and breathability by switching the upper's material to a stretchy flat knit and adding a sturdier midfoot saddle. Paired with a contoured gender-specific sock liner, the Phantom now has a more sock-like fit that snuggly wraps the foot. On the bottom, a full rubber outsole still provides good grip and should hold up well through high mileage.
Charged Bandit 6 - $89.95
Skechers isn't the only brand proving that you can get a good running shoe for less than $100. Under Armour's Bandit has been an affordable favorite since its debut back in 2015, and the latest version upholds the shoe's reputation as a versatile low-cost trainer. The Charged foam is designed to soak up impact forces (though may feel especially firm to heel strikers), and provides additional support from a TPU insert sandwiched inside the midsole. The latest version features added padding around the collar—a significant improvement over the thinner, irritation-prone material used on the Bandit 5.
Under Armour has entered the increasingly crowded field of "fast yet cushioned" midsoles with the Hovr Machina. The second iteration stays close to the first: A generous slab of Hovr cushioning wrapped in Energy Web gets a boost from a two-pronged Pebax plate in the forefoot that ups the responsiveness at toe-off. Testers reported that the combo provided a nice balance between cushioned softness and lively energy return on their long runs. The Machina's sequel now has a new mesh upper that improves breathability, and carbon rubber pods on the outsole serve up additional grip with excellent wear resistance. If you prefer a responsive feel in your everyday trainer, the Machina 2 makes a good pick.
Hovr Infinite 3 - $119.99
Based on a generous slice of Hovr foam, the Infinite is Under Armour's flagship distance shoe that's exceptionally plush for maximum comfort on long runs. (Our tests from the RW Shoe Lab showed it's actually firmer than the Sonic, but testers raved about the cushioning after long road runs.) The usual combo of Hovr cushioning with an Energy Web wrap provides good shock absorption and energy return, without feeling overly squishy or packing out at the end of higher-mileage efforts. Underfoot, the outsole is studded with rubber from heel to toe for reliable grip, while deeper grooves under the forefoot help the shoe retain some flexibility, too. A molded EVA sockliner adds a plusher feel overall, making it a competent and comfy trainer for runners planning to log a ton of miles during their next marathon training cycle.
Hovr Guardian 2 - $120.75
The Guardian takes UA's Hovr/Energy Web cushioning formula and adds in extra stability features for overpronators. The main addition is the medial post in the midsole, but there's also a beefed-up external heel counter to lend extra support and keep your heel in place. Like the Infinite, the cushioning is somewhat firm, but an EVA sockliner offers enough step-in plushness for comfort as the mile count grows. The downside? All that tech atop a sturdy rubber outsole makes these shoes relatively heavy and stiff.
—BEST FOR SPEEDWORK—Flow Velociti Wind - $160.00
An important new release for Under Armour, the Flow Velociti Wind is designed for speed, and it feels fast mainly because of what the design leaves out: a heavy protective rubber outsole. Instead, the shoe utilizes UA's new Flow cushioning compound, which is durable enough to serve as both a midsole and an outsole material. It's also topped with a new Warp upper that's made with tape-like overlays in key areas for added support without excess bulk. Peppy and lightweight, the Velociti Wind is well suited to speedwork and even longer races, too. "Well-suited for tempo runs, the cushioning is soft but doesn't feel sluggish. It provides great rebound, and the overall the shoe has a slimmer, less bulky profile than more cushioned shoes like the Hoka Mach 4," one tester said. "The Velociti Wind had a great balance of cushion and responsiveness, fading into the background and allowing me to just enjoy running."
—BEST FOR WET TRAILS—Charged Bandit Trail Gore-Tex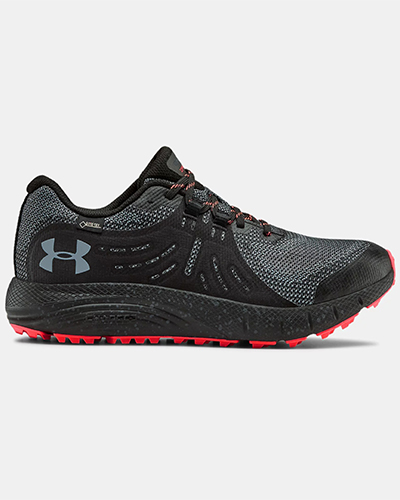 This trail version of the Charged Bandit takes the versatile low-cost trainer and soups it up for the dirt. You'll get the same Charged midsole and grooved outsole as the road version, so expect a firm heel and good flexibility. The main differences are found on the upper and the outsole: A Gore-Tex upper blocks out water and TPU overlays add durability, while a lugged high-abrasion rubber outsole provides grip when you go off-road. Not worried about rain? There are non-GTX men's and women's versions available that are even more affordable.
—BEST TRACK SPIKES—Sprint Pro 3 - $120.00
An update to the SpeedForm Sprint 2, one of our favorite track spikes, the Sprint Pro 3 comes with several key new features for shorter races on the oval. This third iteration rides on a Pebax plate for explosive energy return, and UA added a thin layer of midsole cushioning and a Hovr foam sockliner—which should make it a bit more comfortable than the Sprint 2. The contoured SpeedForm upper creates a dialled-in fit, and a structural TPU film overlay on the forefoot stiffens the fabric for added support and protection.